Weekend Wars
What a weekend! what a long crazy weekend! T'was a lot of fun, food and...yeah. Drama.
I can't believe I just realized it now. All these time, I'm just a miserable little girl who gets everything she wants except for a
GENUINE MOTHERLY LOVE.
Heck, I don't even know what *that means.
Okay, enough. I had the hardest time getting over that harsh reality, so here are my failed attempts to cheer myself up:
Tuna Pasta!


Jamille made my favorite Tuna Pasta so I ate it like there's no tomorrow! T'was hot and spicy and cheesy and just perfect! Just the way I like it! Does it look yummy to you? It does to me so who cares?


Boys Over Flowers!
My cousins Jamille, Jullien and I finished the whole series yesterday. T'was awesome, of course! We cried, laughed and giggled together---exactly---even Jullien!!! LOL.
New Stuff!
Loved the Joker tee, cuz it's "creepy chic"!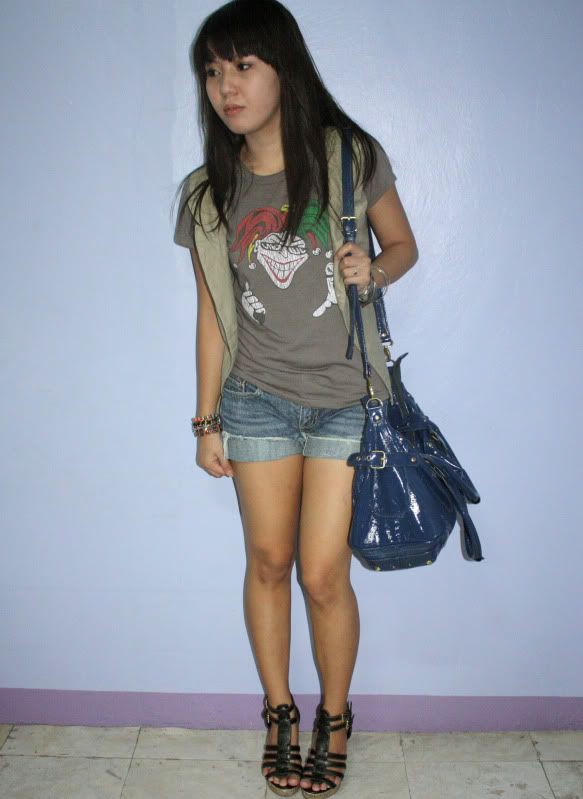 Shirt
- DV
Vest
- thrifted
Denim cut-offs
- Thrifted + DIYed
Sandals
- GoJane.com
Bag
- thrifted
I spotted this bag for the first time last week at a thriftshop in Vicente Cruz. Poor me was broke that time so I wasn't able to grab it. But you see, I've always wanted a navy blue bag, and since the day I laid my eyes on this one, I couldn't take it out of my head anymore! So when I told myself I MUST HAVE IT, a few days later, I already have it! ;)
Wi-fi & Tacos!
Tanene's friend Kuya Alex came over to fix our wi-fi connection here at home. As if that wasn't fucking awesome enough, we also had Tacos for dinner!
So there. Bye.